welcome
Trent Lock Business Venue
Modern Business Venue, with the facilities and solutions for your conference, seminar, product launch or training event.
Introducing
The Slideshow Addon
Want to make your website more attractive? Get a stunning hero section with
the Slideshow addon in SP Page Builder Pro.
See Blocks
Introducing
The Slideshow Addon
Want to make your website more attractive? Get a stunning hero section with
the Slideshow addon in SP Page Builder Pro.
See Blocks
Welcome to Trent Lock Golf and Country Club Business Venue
The Business Venue is modern and designed to incorporate high-tech equipment and flexible working space with the facilities and the solution for your conference, seminar, product launch or training event.
Conveniently located to borders of Nottingham, Derby and Leicester and within minutes of major motorway networks, East Midlands Airport and rail links, Trent Lock provides free and easy parking with a professional and stylish environment, facilities to accommodate from 10-200 day delegates and a wide range of business functions.


Customise Your Event
Whilst we have considered the many aspects of conference services, we also recognise and understand that conference seminars and corporate events vary. Each of our conference packages can be easily to adapted to suit individual company requirements whilst recognising your business needs.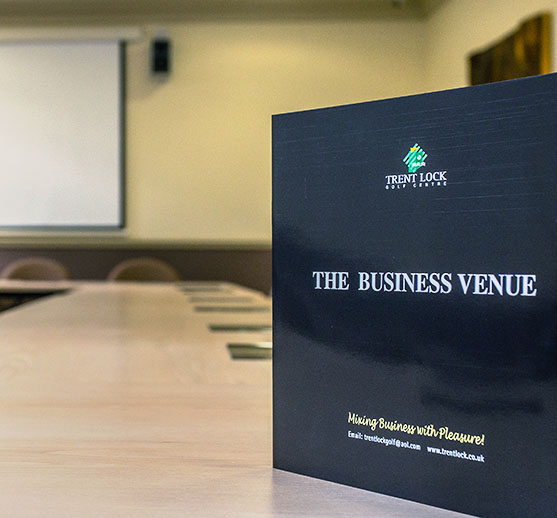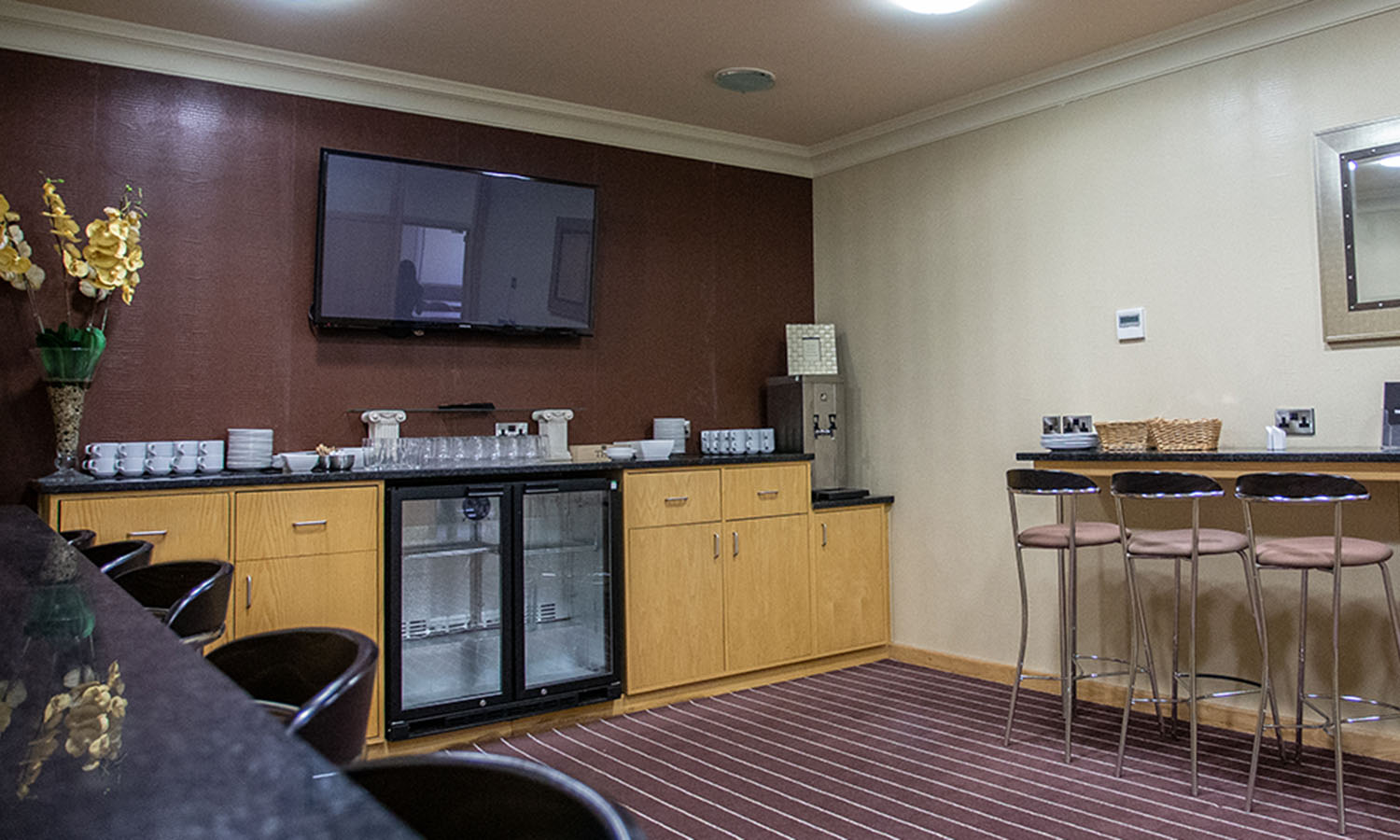 Trent Lock Business Venue
The purpose-built Business Venue was designed to incorporate high tech equipment and flexible working space.
The business venue comprises of 3 rooms and breakout zone to offer relaxation, full hospitality and beverages.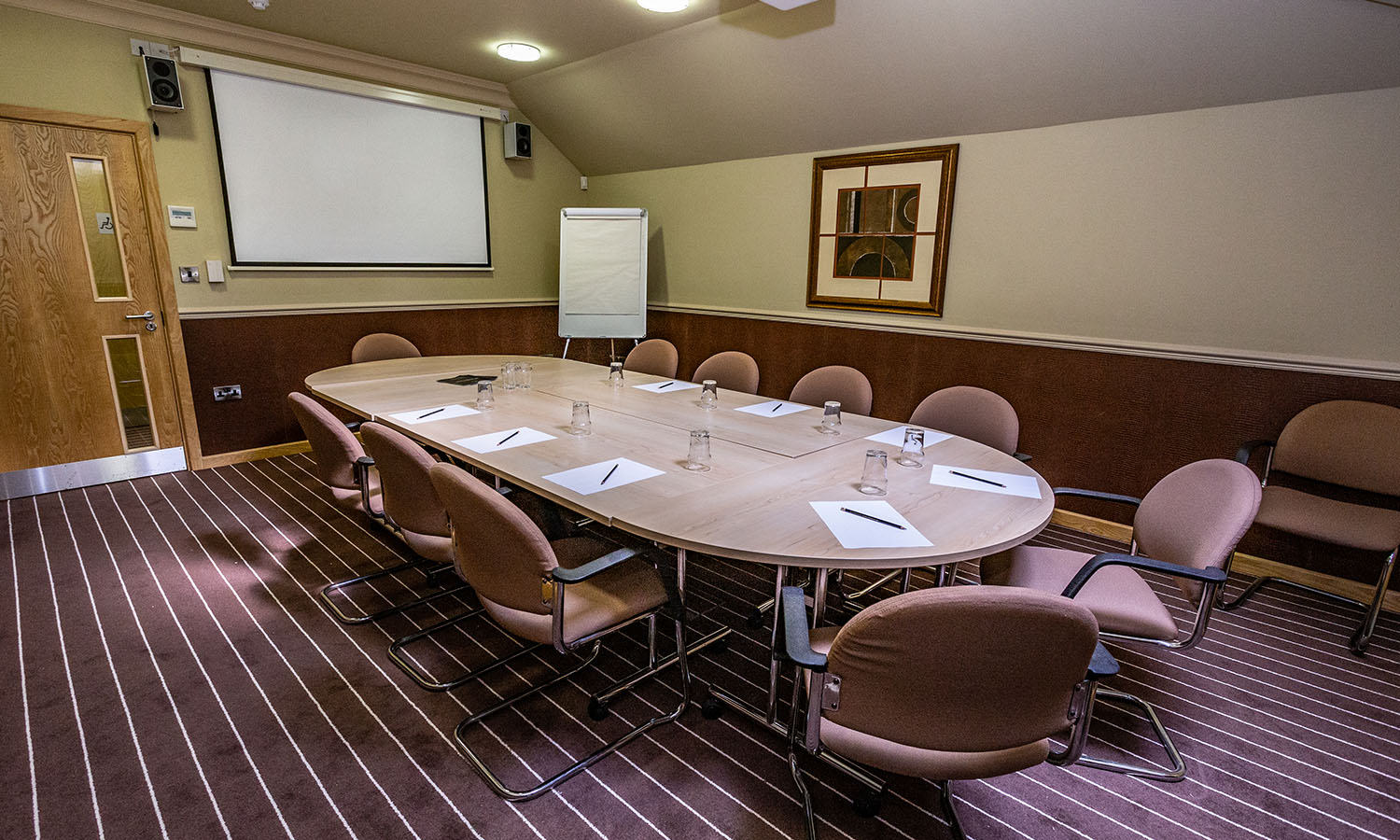 Flexible
Flexible Conference Suites 27 and 31 sq metres (Extendable to 58 sq metres)
The Boardroom (20 sq metres)
The Nicklaus Suite (accommodating up to 200 delegates)
Wireless Internet Acces
Free Car Parking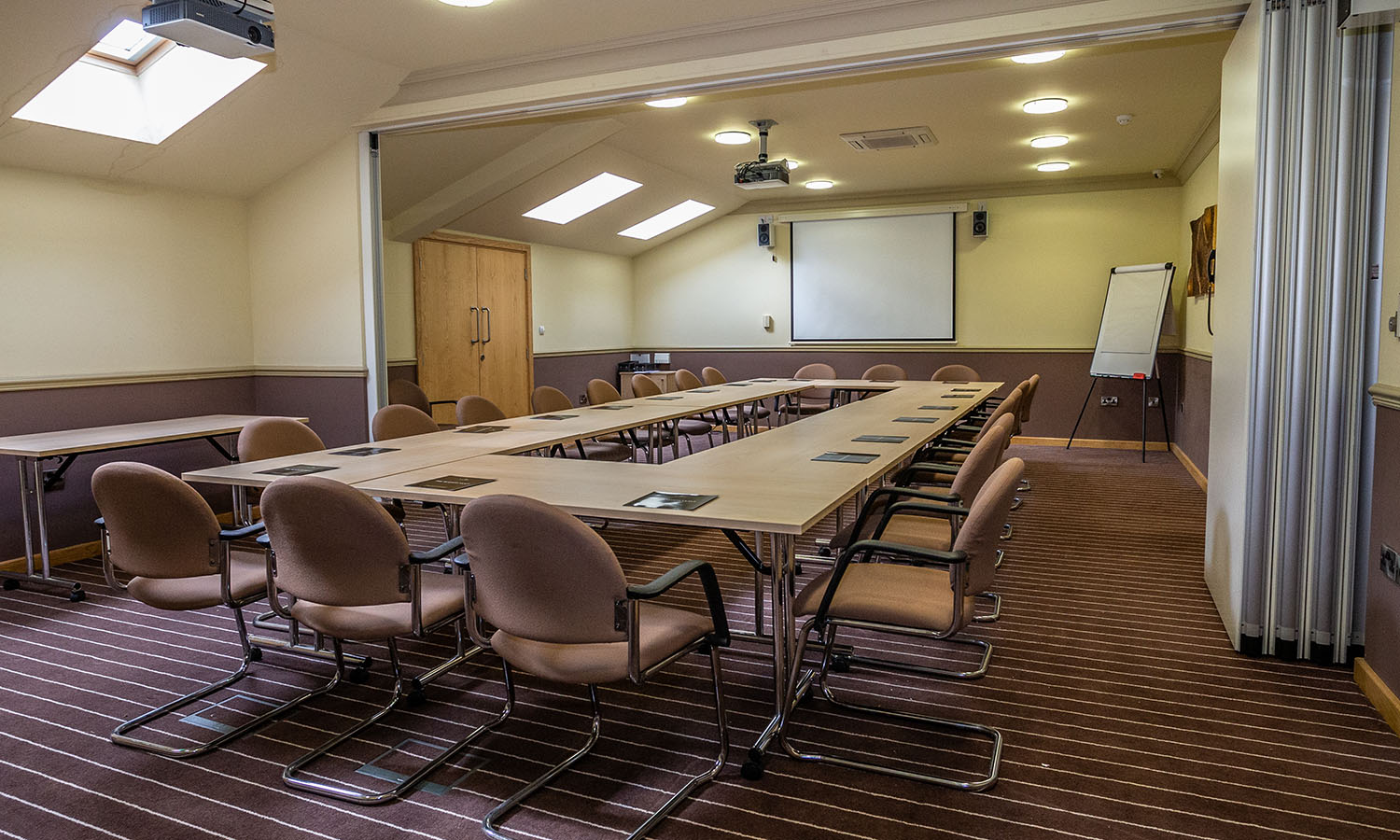 Facilities
Relaxing Breakout Zone with full hospitality & Beverage Packages
Disabled Facilities / Lift
Wi-fi & Voice Station Conference Facility
Secretarial Services
Air-conditioned
Corporate Golf Day Packages
We provide a wide range of tailor-made packages to suit groups and golf societies at all levels.
For further information and guidance in planning your Event, please do not hesitate to contact a member of our Events Team who will be more than happy to assist you.  Please click below for our contact details.

All options and packages are adaptable depending on client needs and requirements and available Monday to Friday, Weekends and evenings. The golf facilities, 18 & 9 Hole Golf Course,  golf tuition, driving range, Adventure Golf for team building solutions and dining experience are an added attraction for those wishing to mix business with pleasure.

Contact
MIXING BUSINESS WITH PLEASURE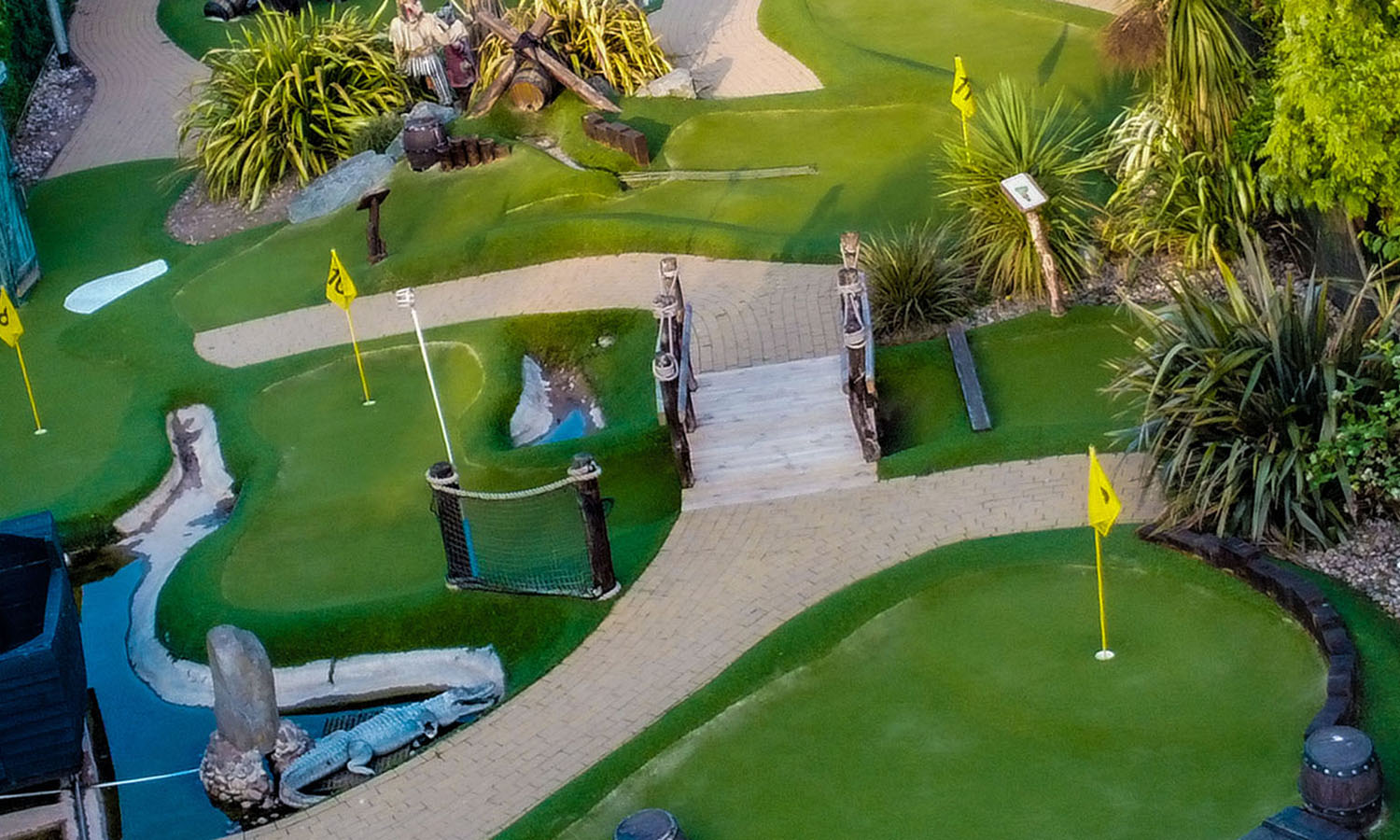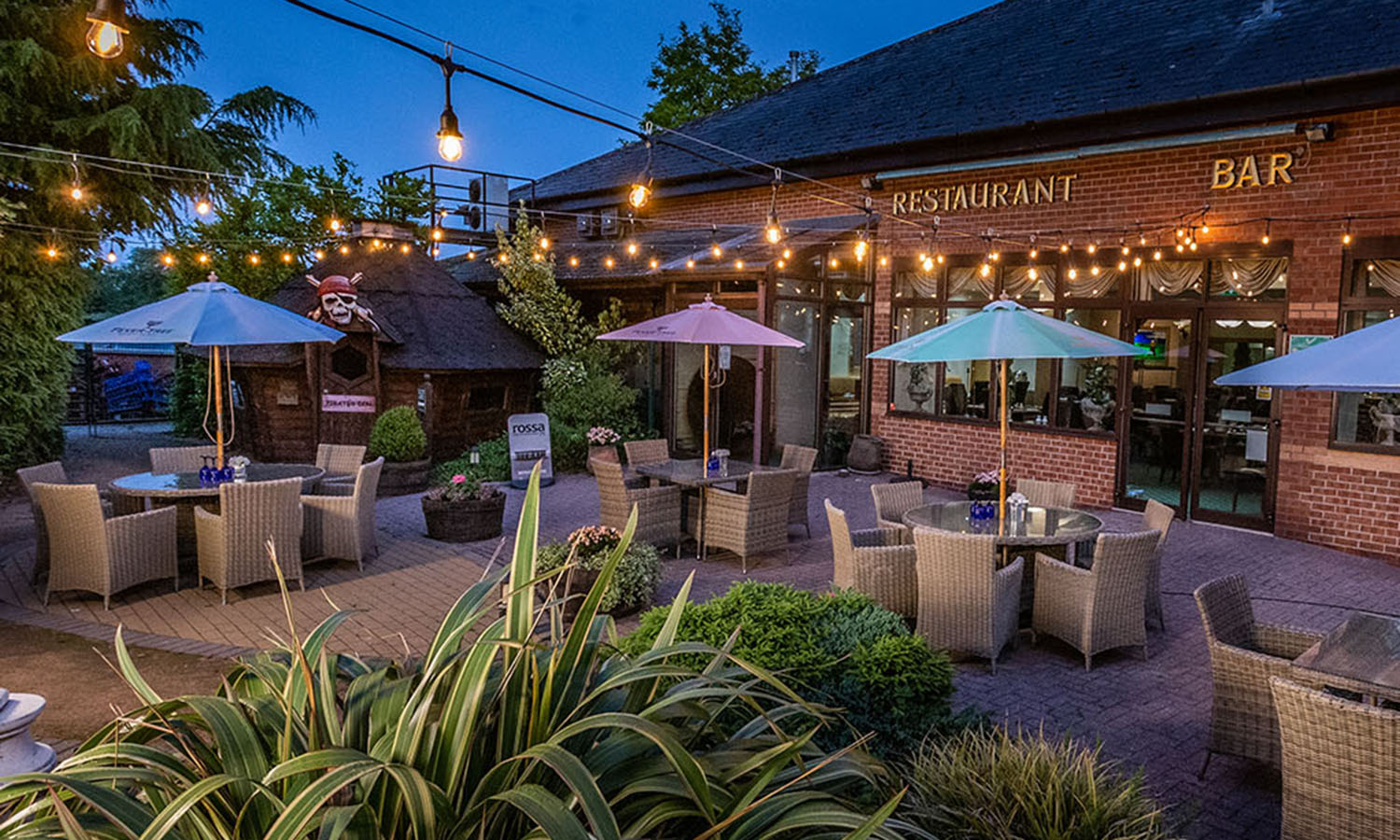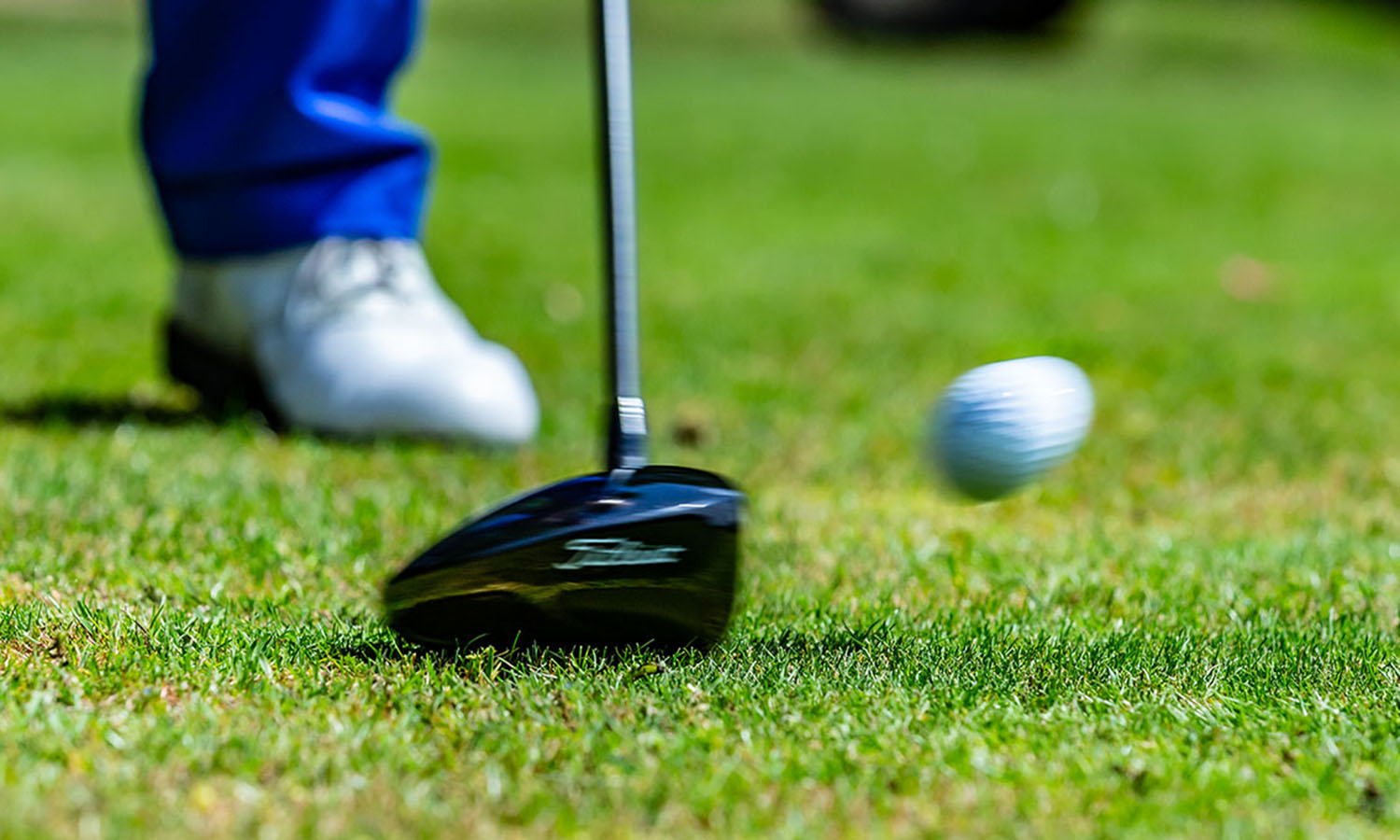 ADVENTURE GOLF
Provides an excellent  facility for team building.
12-hole experience set in a fun filled pirate theme setting.
Create your own master-scoreboard.
Incorporate the adventure putting challenge into your meeting.
LOCKS BAR & DINING
Offer all day dining and a variety of menus, each combosed of classic dishes and traditional grills. Weather permitting; your delegates also have a choise of dining outdoors in the patio garden area.
DRIVING RANGE
A visit to the driving range with complimentary use of clubs can be organised within your day. 

22 Bays.  (2 Left Handed Bays) 
Locks Retreat Day Spa
For those delegates who prefer something at a slower pace Locks Retreat is a calm, elegant and tranquil environment which is discreetly located on the 1st floor within Trent Lock Golfand country Club. The Spa Manager Amanda King, a fully trained beauty therapist, operates the Spa to offer a full menu of treatments designed for both men and women. These treatments can be built into your team building day with prior arrangements and are sure to relax and pamper your delegates.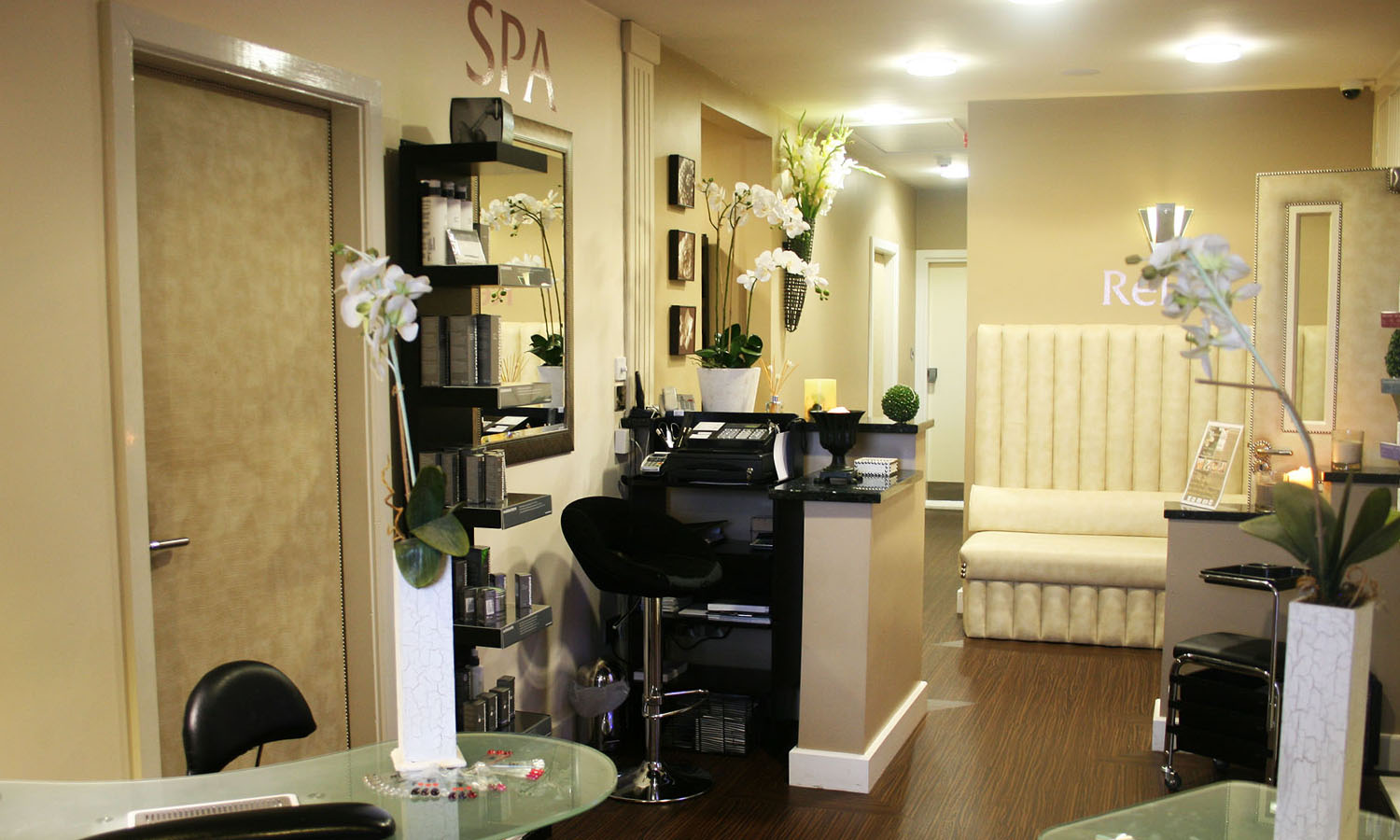 Room Plan & Capacity
Flexible Conference Suites
The Boardroom
The Nicklaus Suite (accomadating up to 200 guests)
Relaxing Breakout Zone with full hospitality & Beverage Packages
Complimentary Wireless Internet Access and Car Parking
Disabled Facilities / Lift
Full data presentation facilities linked to audio/video/dvd in laptop station
Secretarial Services
Fully air-conditioned Rooms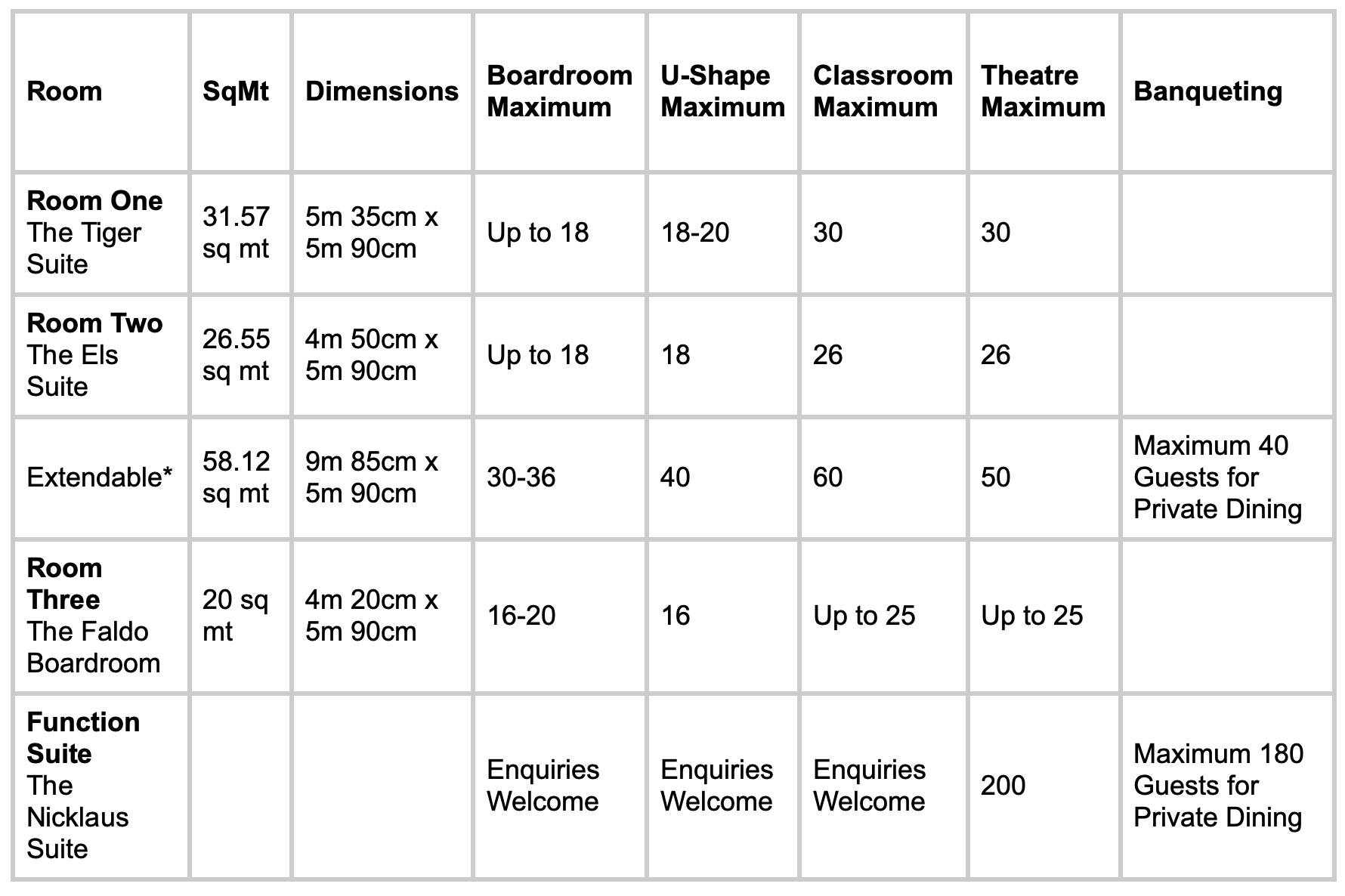 Midlands National Federation of Builders
Many thanks for your help in hosting our meeting yesterday. The rooms were modern, clean, well presented and ideal for what we needed. The separate refreshments area was very smart, the service was quick and efficient and the food was great. I would certainly be happy to hold further meetings at Trent Lock Golf Centre and recommend to colleagues. Thanks Again.
Royal Bank of Scotland - Nottingham
The meeting rooms and facilities at Trent Lock Golf and Country Club are among the best in the area. Everything on the day went smoothly and all the staff were extremely helpful. I'd encourage anyone looking at arranging off site meetings in the East Midlands area to go and have a look at Trent Lock.
National College for the Leadership of Schools and Children's Services
As a venue for our away day on 26 May 2010, it couldn't have been bettered. From arrival to leaving, we were looked after very well; plenty of parking, first class facilities, and the lunch was very good with lots of choice. All in all, excellent value for money with the bonus of being situated in such a lovely setting.
Octopus Investments
On behalf of Octopus Investments, I would like to thank Debbie and the team for the exceptional level of service they provided at our recent conference. Not only was the room of high quality and the surroundings extremely pleasant but the Trent Lock team went out of their way to ensure we had everything we needed. Our guests were incredibly complimentary about the venue which is particularly important to us. At the end of the conference we were even approached by one of the attendees who had asked for details so they could use it for an event they were putting on!
The Royal Bank of Scotland plc
Debbie and the Team at Trent Lock Golf and Country Club were superb when we used the venue for a large conference. Nothing was too much trouble, everything ran smoothly during the day and the facilities were perfect. The availability of the Business Zone also allowed us more flexibility throughout the day. Food and catering were also superb
Fay
Lovely setting, clean, well equipped and professionally presented meeting and refreshments room. Food delicious and varied to all tastes. Staff were polite, friendly and attentive. Debbie made the booking process easy and stress free. Easy access from M1 suited all attendees. Couldn't ask for more
Limegreen Plumbing and Electrical Ltd
We chose Trent Lock Golf and Country Club to host an annual Health and Safety meeting for our staff. We rang round a lot of venues and found Trent Lock to offer the best value for money, in terms of services offered. The staff were also very welcoming and friendly. The venue is great, modern and well equipped. We were met with a light breakfast and the room and facilities were all set up on time. We had tea, coffee and cold drinks available throughout and had a great three-course meal in the restaurant. It is a quiet location and offers style and comfort over and above the usual hotel venues. The key thing for me was the helpfulness of the staff who regularly checked we were OK. Everything went really smoothly and all our staff enjoyed it. I would definitely use Trent Lock again and recommend it to friends and colleagues.
Six Degrees Events
As an event management agency we are only as good as the venues we utilise – we have used Trent Lock Business Centre ongoing for the last two years as we feel the staff, service, feel & look of the venue perfectly complements & enhances our offering. We have no hesitation in recommending the centre for your business meetings, seminar or conferences.
Aisha
Just a few words from us... Trent Lock Business Centre ia an ideal location for any business function. You catered to all our needs brilliantly and we were greeted by an extremely friendly & helpful team who provided us with everything that we needed upon request. We had the full use of several rooms, all of which are fantastic sizes and contained all the necessary facilities. The refreshments & lunch that was served was of extremely high standard & I would absolutely chose the venue again for next time.
Cowens Survival Capability
On the occasions I have booked corporate events at the Trent Lock Golf Golf and Country Club I have been impressed with the level of attention to detail and willingness of all staff to go the extra mile for their client. I have organised management training events at the TLGCC two years running and in both instances the venue has been well presented, clean and smoothly run. The catering has been of good quality and generously matched for the budget set. I would not hesitate to recommend the TLGCC to others in the future. The Co-operative Group
Three Valleys Housing
We have used Trent Lock Golf and Country Club as a venue both for large staff briefings and I have also used the Business Venue for smaller meetings. I have always found the staff very helpful and flexible and the events always run smoothly. The facilities, food and surroundings are excellent and I would have no hesitation in recommending this as a venue for business events.
Mike
My colleagues and myself would like to give a big thank you to Trent Lock Golf and Country Club on behalf of Heineken UK. We have had several meetings at Trent Lock over the last 2 years. Given the central location in the UK this is ideal. The facilities and meeting rooms are first class. We are always welcomed and looked after in a very professional manner by Debbie. Making the whole experience very enjoyable. Once again thank you.
Boots UK Limited
I work for Boots Head Office Nottingham. We used Trent Lock Golf and Country Club to have our away day. There were many reasons why i choose the Venue. It was very local for us all as a team to attend, nice setting and the food is always 1st class. On arrival we was greeted very well, the room was clean and bright and very welcoming all equipment was provided. Coffee and Tea was freely available through out the day. The staff were always willing to Help, checking through the day everything was OK. We had Lunch in the Restaurant. Yet again the food was lovely, and so to was the staff who looked after us. I would highly recommend the Golf Club. Great Value for money. Great service through out. Great location. A Big Thank you to Debbie and all the Staff
Julie
Just wanted to say a big thank you for yesterday it was a lovely day. You were brilliant and very patient!
Jay Fostering Ltd Independent Fostering Agency
Excellent service, professional approach and ideal setting for a meeting. The food catered for all tastes and provided much needed energy for the afternoons workshop activity. The staff were very attentive and security was reassuring. I was so impressed that we will consider utilising the venues again in the near future.
Moore and Smalley LLP
I just wanted to say a big thank you for your help both in the run up to the event and on the day. Having you and your colleague there throughout the evening ensured it ran smoothly, and having you at the entrance directing people to the room made a difference as well. Hopefully a few of the local guests will be returning for a round of golf!
Heineken UK
Having researched for a suitable venue for our training events, we searched on the web and decided to use Trent Lock Golf and Country Club in Long Eaton, Nottingham. The staff were most helpful when we initially contacted them to make enquiries about their conference facilities. The conference rooms were very modern and contemporary. The latest IT technology was provided to facilitate our training. The conference co-ordinator Debbie Angeloni was very professional, friendly and her organisational skills enabled our training events to run smoothly. Our training participants commented highly on our choice of venue and particularly enjoyed the food. We would highly recommend the conference facilities to any other company.
We (Heineken UK) have used Trent Lock Golf and Country Club for many years to both entertain customers and staff, and to conduct business meetings and events. We have always found the facilities to be excellent with great equipment, quality food, plenty of space and friendly staff. The ample parking facilities mean that as a business we can accommodate large numbers of people from all over our region, plus the links to the M1 motorway and East Midlands Airport, mean that the venue is easily accessible from all parts of the UK and Europe. I would recommend Trent Lock Golf and Country Club to anyone looking for excellent meeting and conference facilities, plus the golf course, shop, bar and restaurant make it a great place to entertain.